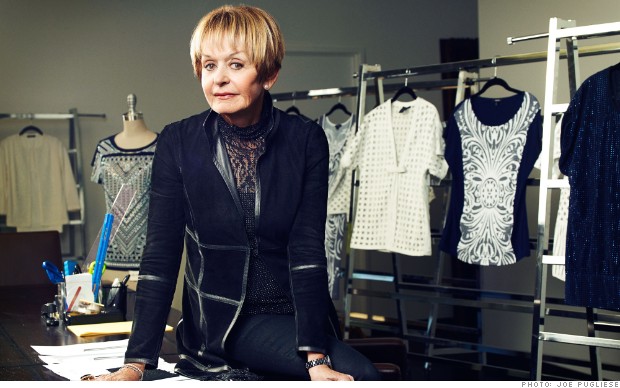 Marie Gray at the offices of Grayse in Irvine, Calif.
(Fortune)
When Marie Gray, now 77, decided to save money and make her own dresses, she had no idea that her distinctive knit creations would become iconic outfits for First Ladies, corporate executives, and Hollywood celebrities. Gray, who co-founded St. John Knits with her late husband, Robert Gray, built an internationally recognized fashion house that has branched out into shoes, handbags, perfume, and bath products. The company's current majority owner, Vestar Capital Partners, declined to reveal numbers, but Hoover's estimates St. John's 2012 revenue at $346 million. Her story:
I was born in Belgrade, Yugoslavia, and grew up during World War II. Dad sent us to a farm on the outskirts of Maribor to be away from the city bombings, and he went to Austria to make arrangements for us to move. But with the war ending, he was unable to get back.
When I was 9, my mother wanted to escape Yugoslavia to reunite with my father. So in 1945 she paid a man to take me across the border to Austria, but we were caught. He was arrested, and I was released. My mother, sister, and I tried again several days later but could not get anyone to take all three of us.
So she paid another man to take me across, but he only took me part of the way. He told me to stay on the road until I came to the house at the top of the mountain. There was only one house visible in the distance, and I walked and ran toward it. It was getting dark, and I was scared. I could hear voices and several gunshots. Inside that house my father waited for me. My mother and younger sister followed months later.
Back then I had only two dresses to wear to school, and they got shorter and shorter as I grew. I hated feeling out of place and really wanted to have clothes that fit and were appropriate. Having a limited wardrobe, I always dreamed of clothes.
Years later my family immigrated to Canada, and my father worked in the hotel-restaurant business. About 1955 or so, my father got an offer to manage the Hollywood Brown Derby, and we moved to Los Angeles. I got lucky and worked on a TV show called Queen for a Day, doing a Vanna White-type thing for the show. I made $300 to $400 a week doing that, and also modeled for some designers, including Hollywood's Richard Blackwell.
My maiden name was Marie Hermann, which was not very glamorous. I was in a business where glamour was it. So I changed my name to Marie St. John when I became a naturalized U.S. citizen. My father wasn't too happy with me, but I thought St. John just sounded good.
In 1956 I answered an ad for a house model for Cannady Creations and met Bob [Gray], who was the sales manager. I thought he was quite handsome but incredibly arrogant -- definitely not my type. Of course, several years later, he managed to change my mind, and I fell madly in love.
MORE: Even Texans can love quiche
The birth of St. John came from my passion for clothing. When I went to work, I spent all my money on shoes and clothes. If I was in a fashion show and wore something I liked, I had to have it. When Bob and I got engaged, I decided I should try to curb my spending.
I really hated sewing; I didn't like knitting either. But I could take the knitting with me and knit whenever I had spare time. So in 1962 I decided I'd make my own knit dresses. It took me a month to make the first one.
Then I bought a knitting machine, envisioning a beautiful wardrobe for myself. I wouldn't have thought of that machine if I hadn't wheeled it out on a Queen for a Day show. After I made my first dress, all my model friends -- who were snobbish and could afford to wear all the designers they wanted -- wanted one too.
So I pestered Bob to show my dress to buyers. My plan was to make a few dresses and pay for our honeymoon in Hawaii. He thought I was crazy and took it to the one person he thought would say no. She was a buyer at Bullocks Wilshire, a department store in L.A. She asked, "What's the name of the company that made this?" He blurted out my name -- St. John -- and the label was born. She placed an order, and Bob was so excited, he took the dress to others.
MORE: Crafting a real paper success
My vision was to price the dresses very high because they were handmade treasures. He envisioned a commercial venture and priced them very low. He sold 84 dresses that first day, and when he told me, I burst into tears. How was I going to make them all?
Bob decided to run ads for a knitter, and I thought he was crazy. Who would know how to operate a knitting machine like mine? But we ended up with one professional knitter, along with my mother, Bob's mother, him, and me. Our mothers helped to crochet because everything was put together by hand. Of course, our moms worked without pay.
We lived in the San Fernando Valley and rented a small shop in North Hollywood. We borrowed $5,000 from our parents and a little bit from a friend. It cost $3,000 to ship our first orders to department stores and independent stores in L.A. We had $86,000 in sales that first year.
The first 10 years were tough. We grew and poured everything into the business. Numbers were Bob's thing. He did all the business negotiations, sales, and marketing. I did the design and took care of the product and quality. I always worried, whether we were doing $200 or $200 million. The business was always scary and stressful to me, especially before bringing a new line out. By 1964 annual revenue was $450,000.
MORE: How AutoZone went into overdrive
Lots of mistakes happen with handmade knitted garments. The challenge was to get our quality and fit uniform across the board. Nobody else was doing knits. I wanted to make clothes that were flattering, that made a woman feel strong, powerful, and feminine. Our things didn't wrinkle and packed well.
In 1967 our daughter, Kelly, was born. Being pregnant, I couldn't try the clothes on for fit and had a lot of morning sickness, which impacted the work a bit. But having her was one of the most joyous moments of my life.
Our national distribution grew to include stores like Saks Fifth Avenue (SKS ), Neiman Marcus, and Nordstrom (JWN , Fortune 500). By 1973, sales reached $2.6 million, and that's when our honeymoon took place. For our 10th anniversary, we went to Hawaii.
In doing the collections, I didn't have a target customer. In my mind, she had no age. She could have been a working woman or a stay-at-home mom with charities to attend. In one year, three First Ladies wore my clothes -- Hillary Rodham Clinton, Cherie Blair [wife of Tony Blair, then Prime Minister of the U.K.], and Sachi Suzuki [wife of Zenko Suzuki, then Prime Minister of Japan]. Our customers included a lot of women in public office, newscasters, and celebrities like Reba McEntire and Paris Hilton. Our annual public warehouse sale for irregular garments would draw more than 1,000 people, and we started opening St. John boutiques in various cities.
In 1989 we sold 80% of the company to Escada. My husband's health was a bit shaky at that time, and he thought the best way to protect the family was to sell a portion of the company. Escada was also a luxury brand and had market share in Europe, which set the stage for our international expansion.
MORE: From waitress to real estate queen
Annual revenue topped $100 million in 1993, but when Escada got into some financial problems, we were concerned it might sell St. John to a partner we might not love. So Bob suggested that Escada take the company public, and it agreed. Later, with the help of Vestar Capital Partners, we were able to buy it back in 1999 for $520 million, and took it private again. We sold a portion of our stock to Vestar and kept a significant portion. Since then we've sold most of our remaining shares.
My husband died after a long illness in 2012. Today I'm still on the board of St. John, and I still own some company stock. After I retired in 2005, I started to work with my daughter on some interesting concepts. Kelly was the face of St. John for a lot of years, then became the creative director and merchandised the collection. Together we've founded Grayse, a collection of day-into-evening separates.
I think I'll always look at garments and think, Hmm ... If I did this, it would be easier to wear. But I don't think anything could have been the roller-coaster ride I had with St. John. Not many luxury brands last 50 years. It makes you feel humble to know your product is so desirable.
My advice
Never disappoint the customer. In the beginning, I'd repair things that happened to a customer's one-of-a-kind St. John. If a customer spilled wine on a white outfit, she might write to say, "Could you please save my St. John?" and I'd offer to re-dye it black.
Make sure your quality is the best. A customer might never see an imperfection, but I would see it, and often remade the dress. It's costly, but I would feel like I cheated her if I didn't give her a perfect garment.
Treat your employees with dignity and respect. At our plant in Mexico, we had a doctor on call for our employees, who could also bring their kids in on Saturdays to see him. It made a big difference in their work.
This story is from the November 18, 2013 issue of Fortune.
via fashion - Google News http://news.google.com/news/url?sa=t&fd=R&usg=AFQjCNFy1mb0wMR1kE-fc_2Px2Ygx5osWw&url=http://money.cnn.com/2013/10/31/leadership/st-john-marie-gray.pr.fortune/